Serving Davis County & the Surrounding Area Since 1900
Bloomfield Bank History
Success Bank, formerly Davis County Savings Bank (DCSB), was founded in January of 1900 on the principle of helping families, farmers and businesses of Davis County reach their financial goals – a practice that still guides us today.
Original directors were President Charlie Young, Vice President Thomas J. Hill, Cashier George W. Phillips, Edward Beauchamp, Dillion Payne, George T. Sowers, Ben A. Leyda and Elmer G. Dickson.
The bank was first located on the west side of the square. In May of 1960, it moved to its current location at 109 North Madison Street.
John M. Garrett purchased controlling interest in the bank in December of 1957. Today, his daughter and grandson remain committed to area families as owners and decision makers of Garrett Bancshares, Success Bank's holding company.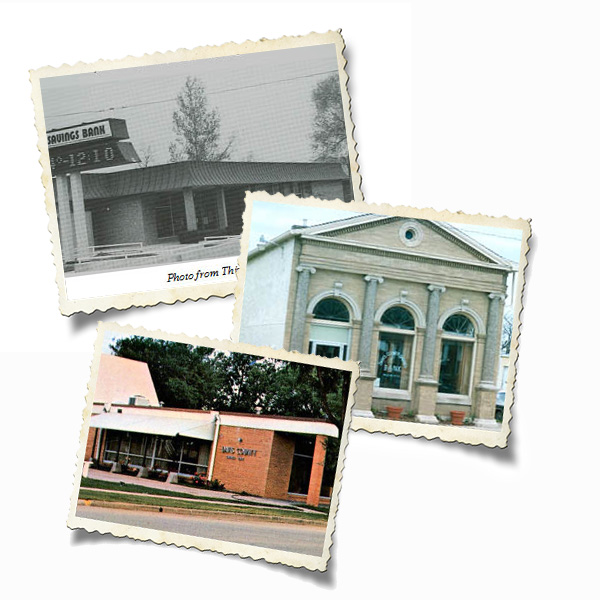 Moulton Branch Opening
In 1936, Moulton residents requested the bank open a branch in Moulton, Iowa. A branch opened in the former First National Bank building later that year. A new building was constructed in July of 2005 and featured modern enhancements that included convenient drive-through service and enclosed walk-up area.

Milton Branch Opening
In February of 2006, Success Bank opened a branch office in Milton, Iowa. The recent closing of a bank in this area left local residents without access to local banking services. Success Bank gladly committed the resources necessary to serve the banking needs of this community. A new building was constructed featuring convenient drive-through and enclosed walk-up area.

Success Bank Today
Success Bank is honored to have been part of the area's heritage since 1900. Customer relationships have been, and will always be, the basis for everything we do. Officers, directors and employees work hard to ensure continued quality of financial services. We are proud of our achievements and look ahead with commitment and dedication to a strong future of family banking and exceptional customer service.
Do you ever think to yourself, "I wish my bank could..."?
Well we can, and we're ready to help you! Make the switch to our bank today!
Switch Now